After shortlisting an array of award-worthy organisations, we are delighted to announce that the winner of our 2021 Employer Award in conjunction with DWS is Aon.
Aon has shown continued commitment to supporting apprenticeships in the sector and is the first organisation in the country to have apprentices complete the Senior Insurance Professional Level 6 and with Distinction.
Vikki Miles, Head of Client Solutions commented: "The 'Go Further Senior Insurance Professional programme' has achieved 4 completions – all Distinctions! Notably, one learner completed their programme in 19 months, which not only shows the apprentices' commitment but also Aon's support for the programme. In 2020, Aon had 30 completions across 5 programmes – Insurance Practitioner, Insurance Professional, Senior Insurance Professional, Senior Financial Services Customer Advisor and Workplace Pensions. Of these completions, 19 were Distinctions and 11 were Passes. So far in 2021, Aon has welcomed 15 new apprentices and we are sure this will continue to grow through our strategic partnership.
We are very proud to be Aon's apprenticeship delivery partner and look forward to hitting more milestones together. Well done Aon!"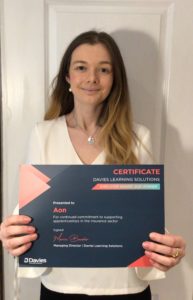 Katie Wilkinson, Talent Development Analyst at Aon commented on receiving the award:
"We are thrilled to have received the Employer Award from Davies Learning Solutions. Aon are committed to empowering our colleagues through their development with a real focus on on-the-job learning. We are elated with the success of the programmes so far and are very appreciative of the support from Davies and their coaches."
Well done Aon on winning this very well-deserved award!
Our learning solutions team delivers a range of apprenticeship programmes across insurance & financial services. Get in touch with Carolyn Blunt to find out how we help businesses make the most from the apprenticeship levy.