For the last 14 years Davies has been recording transactional NPS and Effort scores for a range of insurance company brands. From 2016 we have been able to benchmark these key KPIs and we have witnessed them improve across our basket of insurance brands – by 21 points for NPS and by 10 points for Effort. While this headline sounds like a success story the underlying picture is more revealing. It highlights genuine concerns about the insurance sector's ability to deliver a great customer experience; especially if they persist with a business model that fails to reward the one thing they rely on – customer loyalty. 
Let's start by examining the data to see what it tells us.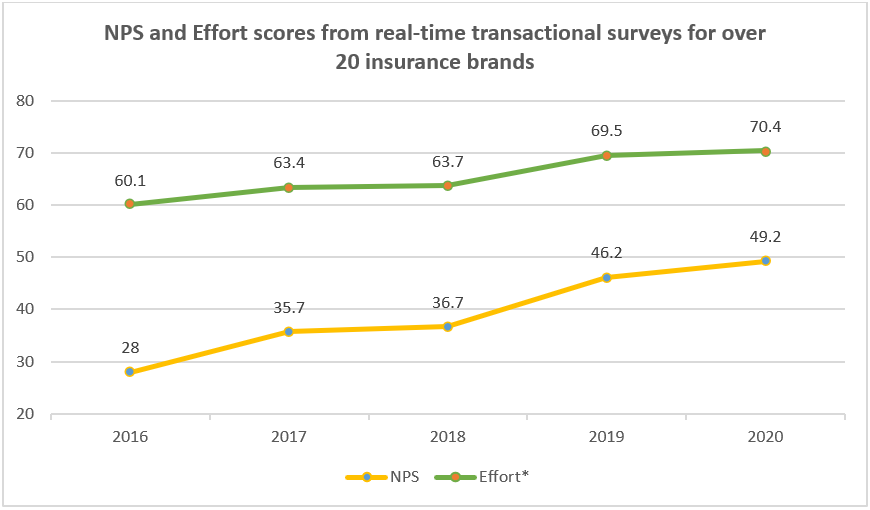 The picture is one of marked improvement over a 5-year period in the crucial KPIs of NPS and Effort. The sector as a whole has come to recognise the vital role that CX plays in customer retention; and, thanks to the widespread implementation of Voice of the Customer feedback and culture change programmes, it has improved its processes and the performance of its customer-facing persona. There has been a shift away from hard measures of success such as sales or average handling time towards softer measures such as Customer Satisfaction, NPS and Effort. Call agents have been given greater freedom to engage customers in conversation without having to push calls to a conclusion. Processes have been streamlined and a focus on query resolution has improved effort scores. 
This improvement in process is evident when we look at the data by primary touchpoint.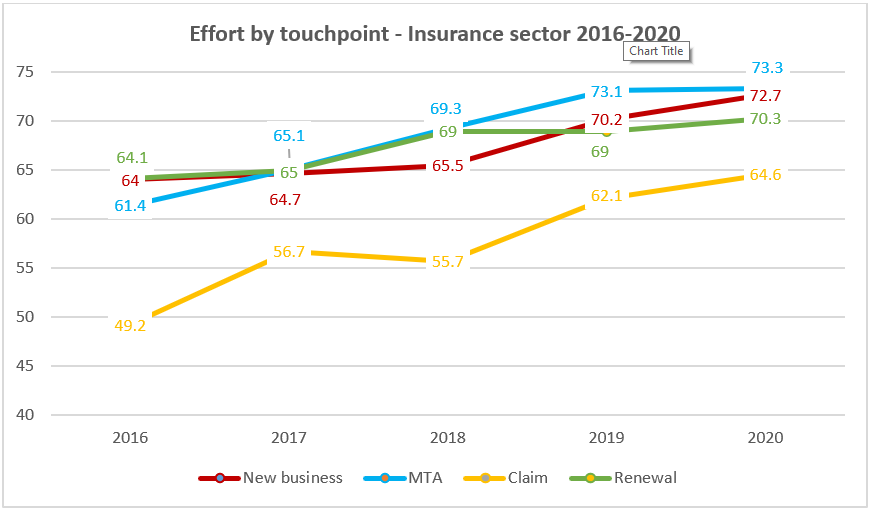 Claims is the sector that has seen the most significant improvement with an increase in effort score (% of sample scoring 5 out of 5) of over 15 points. MTA is the next best performing touchpoint – up by 12 points – partly reflecting the growing digitalisation of the process. New Business improved by just under 9 points but Renewal has only shown a 6 point gain. This is in part because Renewal started in 2016 as the strongest scoring touchpoint for Effort – a reflection of how the industry has sought to make the process as easy as possible and reinforcing the inertia sale that every renewal point represents.
The gap between the highest and lowest scoring touchpoints has shrunk from 15 points in 2016 to less than 9 in 2020. 
Meanwhile, the trend in NPS scores by touchpoint shows a very different picture.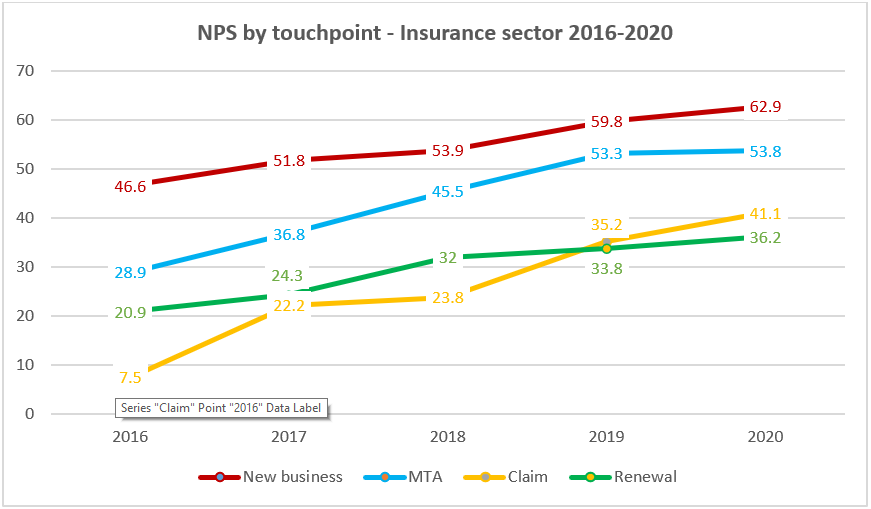 As far as NPS is concerned the most substantial improvements have been seen in Claims (33.6 Points) and MTA (25 points). The sector has recognised the power of the claims process to drive loyalty and it has become a focus for streamlining processes, improving communications and, critically, reducing the speed of settlement. Meanwhile, NPS at New Business has grown by 16 points and at Renewal by 15 points. Unsurprisingly customers feel most positively about the brand at New Business; however, by 2020 Renewal had slipped below Claims as the touchpoint most likely to engender a low NPS score. 
And here is the crux of the issue for the industry. By failing to reward loyalty at Renewal they undermine the efforts they make at claims and MTA to impress with high-quality service. At the point at which the customer relationship should be strengthened the approach to renewal premiums has a completely opposite effect. 
Here are two comments from customer feedback that illustrate the problem: 
It's just a little disappointing when you been with the company for so long when you don't get any reduction in the price

 
Well, I think that because I'm a loyal customer and did renew automatically instead of increasing my premium you could have kept it the same or reduced it but I'll be a bit cannier next time and I'll be looking for cheaper alternatives.

 
No matter how much the industry invests in improving process and customer service the 'Achilles heel' of hiking prices at Renewal will remain a significant threat to customer loyalty and retention. 
And if the insurance industry does not grasp the nettle then it's likely that the regulators will. In its 'General insurance pricing practices market study' the FCA is considering plans for "significant reform", which would see insurers unable to charge existing customers more than new ones, or slowly increase existing customers' prices unless their risk profile has changed. 
It looks like, either way, the future will bring a very different approach which will be to the benefit of brands seeking to drive customer loyalty.