Last week saw extreme heat across both the UK and Ireland. On Monday 18 July, Ireland experienced its hottest day for 135 years, and on Tuesday 19 July, the UK saw the highest temperatures since records began. Unlike other countries, our infrastructure and homes are not prepared for extreme or prolonged heatwaves. As we have seen with the extensive disruption to travel, businesses and education last week, alongside the devastation caused by fires.
Another issue we now face is an increased risk of a subsidence claims surge. The current severity will be determined by what happens next – another heatwave, normal summer weather or a prolonged period of rain? But the surge risk remains and is currently assessed as "Rising Amber".
Our subsidence team have been working closely with industry experts in recent weeks, analysing the appropriate impact for a potential surge event this summer. Comparing this year's weather to previous years; notably 2003 & 2018 when we saw increases in claims volumes.
After a reasonably dry start to the year and following our assessment, we expect an uplift in subsidence claims heading into the second half of the year, with the potential for a surge event.
The primary cause of a surge is an extended period of exceptionally hot and dry weather between June and September, and previous surges were triggered by record-breaking summer temperatures.
The measure of Soil Moisture Deficit (SMD) is currently tracking ahead of what it was in 2018 and has similar patterns to the 2003 surge. The SMD was on a steady rise from mid-April to June, but from early June we saw a steep rise, with the SMD values moving above 200, and quickly hitting 285 heading toward the end of July. Previous data has shown that an extended period of dry weather ahead of summer can increase the amplitude of summer claim numbers.
The weather forecasts heading into August, are still predicting above average temperatures with only slight showers, but mainly dry weather conditions.
How can we help you prepare for a subsidence claims surge? 
Uniting our automated low-value claims validation with our expanded subsidence expertise, we've significantly enhanced our surge capability over the past year. By strengthening our subsidence capability, we've reduced claim lifecycles and increased customer satisfaction, protecting our insurance sector clients' brands and reputations.
Our dedicated subsidence and surveying service is supported by a range of technology, including drone and video capability to capture information electronically on site; and to quickly deliver claim decisions and systemised costings. By effectively triaging claims between our volume and technical hub, we can deploy resources during periods of surge and deliver some of the exceptional results outlined below: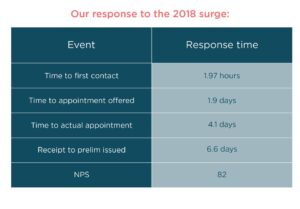 To find out more or to discuss our services, please contact our Director of Client Operations, Paul Greenwood, at Paul.Greenwood@davies-group.com or our Head of Surveying and Field Services, Patrick Clark, at Patrick.clark@davies-group.com.