In association with Insurance Post
When lockdown was announced in March 2020, the scale of the adjustment required for remote working may have warranted insurance businesses pressing pause on recruitment and development. But, with lockdown accelerating the use of technology, it's been much more of a case of fast forward for these areas.
The importance of keeping training programmes in place is something that can't be underestimated according to Lyn Nicholls, HR director at Ageas UK. "Talent development is vital to any business's long-term future," she says. "We see it as core to our long-term success. We had to keep our talent development programmes running."
Out with the old
With employees working from home, keeping training and development in place presented a challenge to insurance businesses. Post's survey, in association with Davies Group, shows that, before the pandemic, face-to-face training was a significant part of most training and development, with just 1.7% of respondents saying they offered digital only and a further 6% saying mostly digital.
The picture varied greatly across the sector. At Aviva, UK learning, development and talent lead, Karen Cracknell, says that around 75% of its learning was already digital before lockdown was announced. "We'd already made great strides to digitalise learning but we still ran a lot of face-to-face sessions, especially around developing talent," she explains. "Face-to-face was a key part of many programmes including those for graduates, women in leadership and anything that involved coaching."
Other insurance businesses weren't quite so far along their digital learning journey. For instance, Lisa Brindle, head of learning at Covéa Insurance, says training was predominantly face-to-face. "When I took over at the beginning of 2020, I put a roadmap in place to move to a more blended approach by 2024. Thanks to the pandemic, the transition has been much faster and easier."
Overnight overhaul
Keen to keep development programmes running, the shift to remote working forced insurance businesses to rethink the way they delivered training. "Trainers had to get their thinking caps on," says Marcus Bowsher, managing director of learning at Davies. "Rather than simply replicating a classroom setting online, they had to think about what would be the best way to engage people with the training. This saw everyone exploring different formats such as online forums and breakout rooms to see what works best."
This was the case at Aviva, where Cracknell points to a training session for around 60 people where it was necessary to mix up the way it was delivered. "Alongside the plenary session we also had much smaller discussion groups so we could ensure that everyone was engaged and felt they could participate," she adds. "We've also used lots more video: people learn well by seeing other people."
The length of a training session also became critical to its success. While these may have been measured out in days, or half-days as a minimum, for face-to-face learning, shorter concentration spans online mean that digital training is much shorter too.
A good example of this is Ageas UK's Accelerate programme, which would have normally included some classroom-based learning. "We knew we couldn't simply lift a classroom session and drop it into Zoom," says Nicholls. "Instead, we tailored it to the new digital platform, creating a series of bite-sized, interactive webinars rather than full or half day sessions."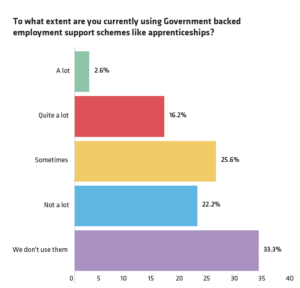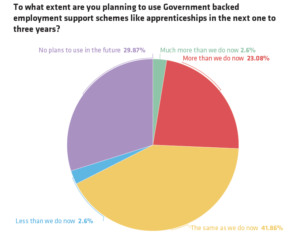 New situation, new training
The shift to remote working coupled with all the uncertainty around the pandemic meant that, as well as redesigning existing learning, there was also demand for new areas of training. Inta Nalivaiko, divisional director for HR at Aston Lark, says remote working brought new challenges for line managers. "Managing a team remotely requires a different set of skills to managing them in an office environment. To support our managers, we introduced training programmes on managing people remotely, setting objectives and communicating well."
Employee health and wellbeing also became a key issue in lockdown. Nalivaiko says that as well as increasing communications around existing mental and physical wellbeing support, she rolled out more mental health training. "It's important to make sure employees know support is available and that there aren't any stigmas around asking for help," she adds. "We also run two-weekly pulse surveys so we can understand how employees are feeling and adjust support where necessary."
The situation everyone found themselves in also made it much easier to transform existing training and shift to digital. Jost Wahlen, head of learning and development at Allianz, explains: "Everyone is more comfortable using technology due to lockdown, and it's really opened the eyes of some to what's possible. I don't think digital learning will replace everything but training and development won't go back to where it was before the pandemic."
Bowsher agrees. "The pandemic has helped to bust a lot of myths around digital learning," he says, pointing to the apprenticeship training his firm offered pre-COVID-19 to illustrate the reservations that were around. "We used to run all the coaching element of our apprenticeship training on a face-to-face basis and insurance firms would select us for this reason," he explains. "We had to change this during the pandemic but everyone is more than happy for it to be digital now."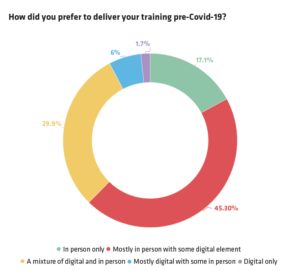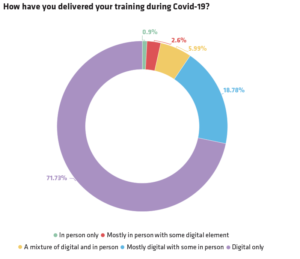 Digital benefits
Alongside its ability to continue during a pandemic, the flexibility offered by digital learning is a major benefit. Employees can dip in to learning when and where it suits them, rather than at a set time and place that may not be overly convenient.
This opens up opportunities for more employees as Peter Samuel, HR director at CFC Underwriting, explains: "Digital learning offers more choice and flexibility: even those with busy schedules can make time for professional development."
Digital learning can also reach employees who may feel uncomfortable taking part in a classroom setting. "It's really good for diversity and inclusion," says Nalivaiko. "Being in a new place all day could be a real blocker for someone, but with digital learning they can be in their home and could even turn their camera off if it makes it easier."
As well as potentially extending learning and development throughout an organisation, there are some chunky benefits for employers. Being able to deliver one digital programme across multiple sites delivers cost and time savings, but also ensures consistency of training. Similarly, as there are no requirements on headcount, employers can offer greater variety in their training programmes.
It's also more immediate, as Wahlen explains. "With digital, no one has to wait for knowledge. This is great for employees who want to learn but it also means we can reach people faster, for instance with mental health training or support around an aspect of their role."
The feedback that's available from digital learning also trumps the dog-eared questionnaires that attendees used to reluctantly fill in at the end of a day's training. "The analytics are so much richer," says Cracknell. "We can see how people are absorbing learning, where we might want to add programmes and help to shape employees' future development. We've definitely seen a real pull on learning during the pandemic."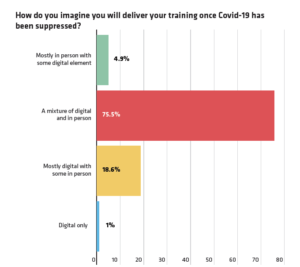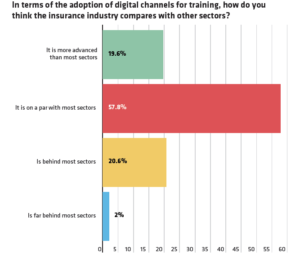 No going back
Given these benefits, it's not surprising that the survey found a shift to more digital learning in the future. When asked how they would deliver training once COVID-19 is suppressed, just 4.9% of respondents said they would revert to mostly face-to-face with some digital. The majority – 75.5% – saw the future as a mixture of digital and in person with the remaining 19.6% split between mostly digital (18.6%) and digital only (1.0%).
Cracknell isn't surprised. "Life has changed fundamentally," she says. "We'll definitely continue to use technology more to support learning and development. It's quicker, cheaper and easier to implement."
It's also likely to fit the new normal, with remote working remaining to some extent for many organisations. But, with face-to-face back on the table, Bowsher expects to see more blended learning. "The experience of the last year with digital learning will really benefit the way learning programmes are designed," he says. "Everyone's seen how well digital learning can work, and where face-to-face can be better. Decisions will be more informed now, and free from the pre-COVID-19 biases that existed around digital learning."
Certainly, there are some areas of learning and development where face-to-face is seen as the most effective option. Christine Ling, head of learning and development at Gallagher, says that a significant part of any kind of professional development is 'on the job' training, which naturally takes place in the office. "We've encouraged line managers to support colleagues through regular catch-ups, one-to-ones and team meetings but this is clearly harder to deliver in a remote working environment," she explains.
There are also key points in employees' careers where face-to-face learning can be more important. As an example, Nalivaiko points to early career starters. "Our corporate induction day includes a trip to Lloyd's of London," she says. "This can be really inspiring for someone starting out in their career."
What do you think are the most important considerations for talented employees and job seekers under the age of 30?
Please select and rank five of the below options in order of importance. 1 = most important factor, 2 = second most important factor, 3 = third most important factor, etc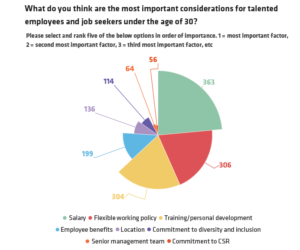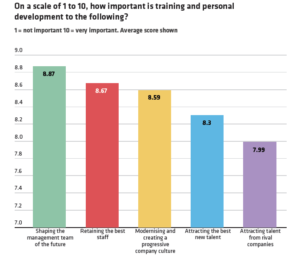 Recruitment strategy
While there are still times when a face-to-face session may be appropriate, recruitment in the insurance sector is also undergoing transformation as a result of the pandemic. This may mean that expectations change too.
Gallagher is a good example of how recruitment has changed during the pandemic. It took on more than 400 people last year with the interview process conducted via video conferencing and the corporate induction programme delivered virtually.
Being able to recruit in this way opens up considerable opportunities. "We're no longer tied to location," says Matthew Metcalfe, senior manager for talent acquisition at Covéa Insurance. "We recently recruited a head of pricing who's based in Glasgow; previously we would have expected them to be based close to one of our office locations."
As well as extending their reach – potentially even globally – for candidates, many insurance firms are also keen to use government backed employment schemes to help them develop and bring new talent into the sector. In the survey, 44.4% of respondents said they used them, of which 2.6% said a lot and a further 16.2% said quite a lot.
Ling says she uses these schemes where appropriate. "In the last 12 months, 45 colleagues have started studying towards an apprenticeship qualification, and we also use apprenticeships to support our Gallagher Futures programme and our school leavers programmes," she says.
There is also interest in the newer scheme, Kickstart, which provides funding to create six-month placements for 16-to-24-year-olds on universal credit. Nalivaiko has applied to take six people on at Aston Lark. "We're still waiting to hear but we're keen to support initiatives like this. It's good for diversity and social mobility and could result in a permanent role," she adds.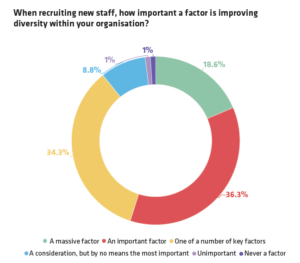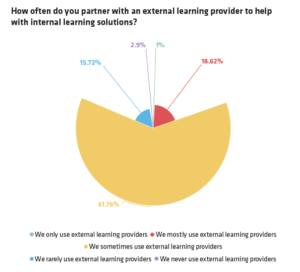 2021 and beyond
With insurance firms committed to building talent, the next 12 months are likely to be busy for anyone involved with training and development. Although digital learning is set to be a bigger part of training programmes, there's the prospect of change when the pandemic is under control and people can return to office settings. Samuel expects to see a bit of a catch-up, especially for new joiners. "Learning and development professionals will be working with key stakeholders to understand how best to deal with areas such as onboarding of new hires and junior team members. They will have missed at least a year's learning on the job with seniors in their teams," he says.
There'll also be some adapting. As in-person training becomes an option again, Nicholls expects trainers will have a mix of learners in the room and others connecting via video link. "We're looking at what technologies we can use to support this and ensure everyone feels just as included, no matter where they are," she adds.
Bowsher expects apprenticeship levy funds will be central to insurance firms' talent strategies to develop existing workforces. He says: "Using apprenticeship levy funds to develop the existing workforce is a key component of talent strategy for insurance businesses; especially now that learning and development budgets are tighter than ever before.  The view of apprenticeships is also changing. Thankfully, they are no longer seen as a second rate choice for developing professional people through to chartered status. We help firms navigate and use this route to great effect, whether they pay into the levy or not. They can provide a backbone for graduate programmes and we have got creative in using levy for front line teams to develop sales through service skills in a regulated world. Any insurance firm looking to increase the number of qualified insurance professionals in their structure should definitely be talking to us."
Insurance employers are also looking further ahead, with Wahlen keen to explore ways to create the workforce of the future. "Insurance is changing and we will need new and different skills for the future," he says.
One tool he's using to achieve this is an artificial intelligence platform to support employees' learning. This tracks the training they've undertaken and are interested in and helps them build on this to develop skills for the future. "Whatever we do now, it needs to help us create the right talent for the future," he adds. "Learning and development never stands still. It's very exciting."