The last 12 months have accelerated the use of digital functions in customer journeys across most industries, including insurance. Customers are showing an increased appetite for digital services and expect access to the information they need anytime and anywhere.
In the claims arena we've seen that customers want the option to submit their claim without speaking to an agent in the call centre, and with minimal effort or involvement. Insurers who don't keep up with the demand will be at risk of a drop in retention rates, as customers switch to those who offer the service they want and expect.
To meet the increased appetite heads-on, we have developed a new electronic notification of loss (ENoL) app that offers a new way for customers to submit their claim. The technology captures the information needed to process a claim and asks the customer to simply fill in the remaining details. The app is available to both Apple and Android users and can be white labelled for our clients to align with any brand. Initially, we're rolling the technology out across motor and property insurance claims, but with the capability to support any type of insurance policy.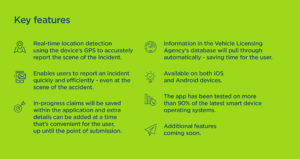 The app optimises the traditional FNOL process, reducing speed of notification, which will expedite the Claims process. This is particularly key in controlling indemnity spend, where for example, we can identify third-party intervention opportunities earlier and offer services. This provides the opportunity to complete the third-party vehicle repairs in our network and control the total repair costs.
A positive and effortless customer journey is essential to enhance customer experiences, improve NPS scores and customer retention rates. With the increased appetite for digital solutions, insurance firms need to act to meet and exceed customer expectations for the future.
"Our commitment of always putting the customer first, is further enabled by our suite of digital solutions. Our ENoL app is the latest offering in our "Connected Intelligence" strategy, presenting a white labelled digital journey, ensuring we deliver on your promises and delight your customers.

An incident resulting in a claim can be a challenging experience, and in an ever more digital world, we believe that the ENoL app goes some way to making claims simple and put the customer in control of their journey."

Stacey Goodchild, Managing Director – Motor Claims, Davies
Please contact our Motor Claims Managing Director, Stacey Goodchild on stacey.goodchild@davies-group.com to see a demo of the app in action and discuss how it can help your customers.