It turns out, there's nothing quite like a global pandemic to shake up customer channel usage. With the shift in customer expectations and channel preferences undoubtedly putting increased pressure on organisations to deliver a memorable customer experience. Before the pandemic, organisations could often rely on traditional channels like email and inbound telephony, that they had been using undisturbed for so many years. But research shows that 2021 saw a rise in customers connecting with organisations using messaging apps, with 64% of customers trying new channels such as mobile platforms like Whatsapp (Zendesk, 2022).
With 1 in 3 customers likely to switch brands if they have just one bad experience, it's essential that organisations offer customers their preferred channel, not only to avoid poor CX, but to limit unhappy customers. But with all that said and done, why are so many businesses still not planning on implementing mobile channels as part of their CX communications strategy?
Failure to (mobile) launch
In our recent research with Netcall, 48% of organisations said that they would prefer their customers to choose a channel of their choice and 40% would prefer service users to use human provided contact channels. So why are some industries hesitant to adopt mobile channels?
Let's take a look at the graph from ContactBabel's, The UK Customer Experience Decisions-Makers' Guide 2021-22. On average 9% of all markets are planning on looking to replace or upgrade their current mobile customer service channels, with 20% looking to implement mobile channels over the next 12 months. Surprisingly though, this isn't a great priority for 7%, and 15% have no plans to implement mobile functionality at all.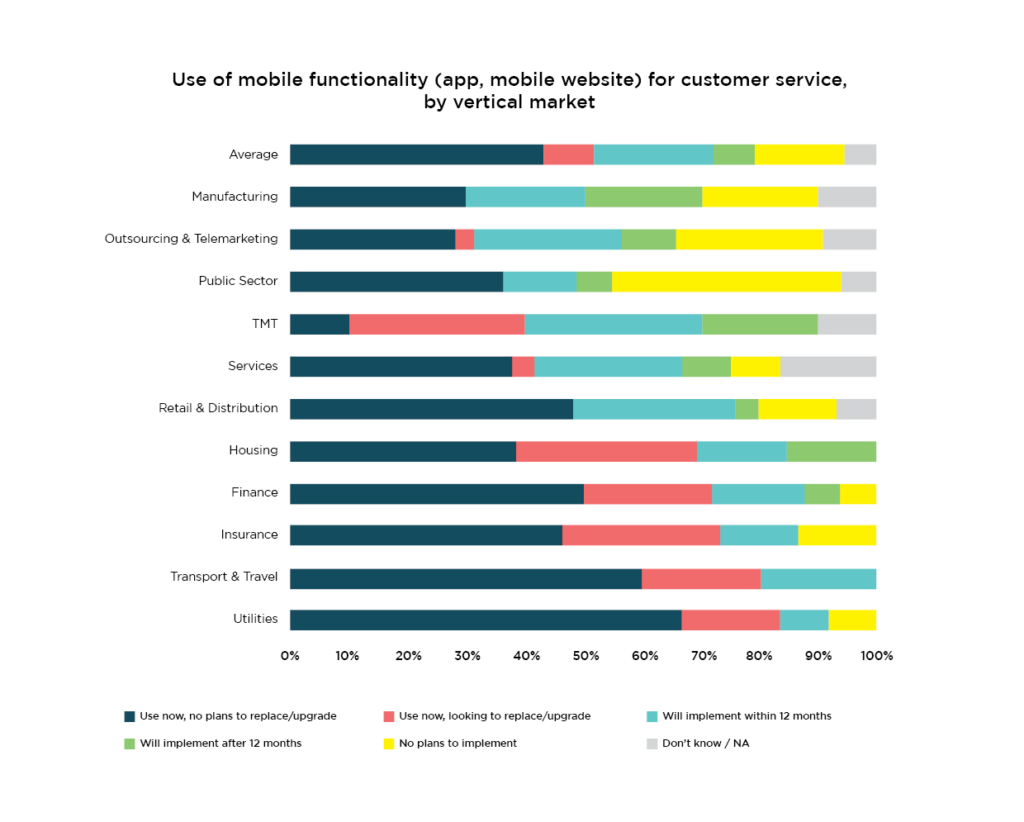 (Graph from ContactBabel's, The UK Customer Experience Decisions-Makers' Guide 2021-22)
Mobile channel adoption across industries
Of course, it's likely that customer behaviours differ based on the industry type.
The graph (ContactBabel, 2021) tells a story – utilities, transport & travel, and finance industries lead the way when it comes to leveraging mobile channels. Scoping out the reasons why that is the case for these markets, it is likely the drastic shift in demand due to the pandemic resulted in customers reaching out to those sectors in new and different ways. Those industries in particular, saw a steep increase in call waiting times, and with the need to resolve issues swiftly during an already unsettling period of change, more customers picked up their mobile devices to seek swift resolutions.
On the contrary, we see industries such as retail & distribution, outsourcing & telemarketing and TMT (technology, media, and telecom) demonstrating a slower pace of adoption with no rush to implement mobile channels.
Let's focus on retail. With store doors shut and people experiencing increased disposable income as a result of home working, online retail shopping boomed during the pandemic. Ecommerce app usage during 2021 grew by a staggering 30% with users spending 49% more time on retail apps since January 2020 (Skeldon, 2021). So why are only 25% of this market planning on adopting mobile channels over the next 12 months and not rushing to keep on top of customer behaviour?
It's all about channel choice
The world is opening up again, and people are beginning to get the confidence back to experience the brands that they love in a face-to-face environment. Although, this does not mean that the demand for mobile channels will decrease entirely, for retail or any other industry.
As a result of customers interacting with more brands during the pandemic, and experiencing different customer journeys for each of those brands, it's not too surprising that 2021 saw an acceleration in customers' expectations – and the CX playground has become more competitive than ever before. If customers have experienced using a mobile channel to connect with one brand, they will expect the same from others, irrespective of industry.
Of course, you need to truly understand your customers to know just how important mobile channels are to their experience with you. It's also important to understand that it's not about championing one channel over another but understanding how essential channel choice is. Organisations need to commit to giving their customers the option to interact with your brand in all the ways they may want.
If you're looking to create a seamless mobile experience, or shake up any of your other customer touchpoints, then please get in touch.
Sources
https://www.zendesk.co.uk/blog/what-is-cx/
https://internetretailing.net/mobile-theme/mobile-theme/shopping-app-use-grows-30-in-2021-as-shoppers-continue-to-use-mobile-even-as-stores-open-23653
Mat Paixao
Commercial Director
Davies Group
E. mat.paixao@davies-group.com
L. https://www.linkedin.com/in/mat-paixao-8a8b8b27/