Many clients ask us to help improve customer retention because they're seeing many issues. They need our expertise to increase the save rate in the contact centre and reduce customer churn. We also help them improve customer retention by improving the agents' soft skills and help retain customers when the customer requests to leave. Our solutions also help identify the behaviours of top performing agents to help train the wider team.
Our experts also measure agent attempts to save the customer using the retention toolkit components, create a retention effort metric – number of retention toolkit components used in a call – and use daily reporting of the retention effort metrics to keep agents focused on their retention activity.
Our Approach
In this healthcare provider example, analytics tracked which retention toolkit components were being used and how the usage had a strong correlation to retained customers. The agents were trained on how to use the different components of the retention toolkit. The individual needs to improve save retention effort was tracked and agents were coached based on their retention activity.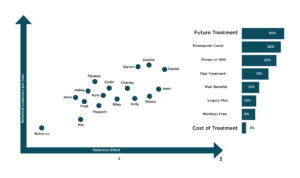 Return on Investment
We helped significantly increase retained customers, considerably ahead of expectations and achieved higher levels of employee engagement through more targeted coaching.