A leading UK bank engaged Davies to help them solve a variety of problems. Customers were failing to complete their transaction in self-service, demand into the contact centre had not reduced in line with expectations of their digital programme and the bank was lacking robust data on the online failure drivers.
Many calls were being driven into the contact centre to reset user names and passwords, reset memorable information or to request or chase a card reader as the online user journey lacked clear signposting to address the issue (see example below):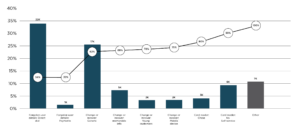 Our Approach
We helped the client deploy speech analytics to pinpoint calls related specifically to online failure demand and build complex speech searches to identify the root cause drivers of online failure. We also made recommendations for business change to improve online containment and recommended regular reporting to track reduction in demand based on the change initiatives.
Return on Investment
A prioritised list of new online transactions was identified that would meet customer needs and an Agile programme was created to deliver the website changes. Overall findings of 150 FTE savings from improving the existing online customer journey or creating new online functionality.