A client came to Davies, to see how we could help them increase operational efficiency. They had multiple issues – including increasing operational costs and a call handler time that needed to be reduced. The client also wanted to improve the customer experience with a more efficient customer interaction.
Our Approach
Speech analytics was deployed on a large sample of calls to identify the % of silence in each call, then reported this silence % for the number of calls handled.
Davies benchmarked the client against other industry peers to demonstrate the size of the
opportunity and made recommendations for improvement. The client then identified the agents with the highest silent time and coached the individual on how to reduce this.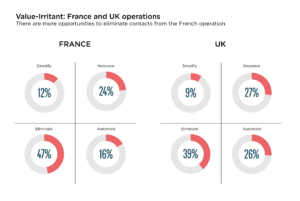 Return on Investment
By measuring the silent time during a customer interaction using analytics as well as the use of hold during a customer interaction to identify agent knowledge gaps for specific call types, Davies were able to deliver a significant £250k in operational savings in the 9 months following implementation.