60% of UK respondents still aren't using speech analytics – even though 90% of those that do use it say it's effective. 
ContactBabel's Inner Circle Guide is always required reading for those working in the contact centre sphere. The latest focuses on the Voice of the Customer (VoC) , which it defines as the use of Speech and Text Analytics on contact centre interactions and post-interaction customer feedback surveys. It looks at why VoC has become so important in many organisations and examines some of the ways organisations are using VoC to drive change. 
The report also calls out industry trends and findings and gives a thought-provoking set of insights to consider. Most strikingly, it found that 60% of responding UK organisations are still not using speech analytics. Yet among those that do, 90% say it's somewhat effective or very effective for gathering customer insight.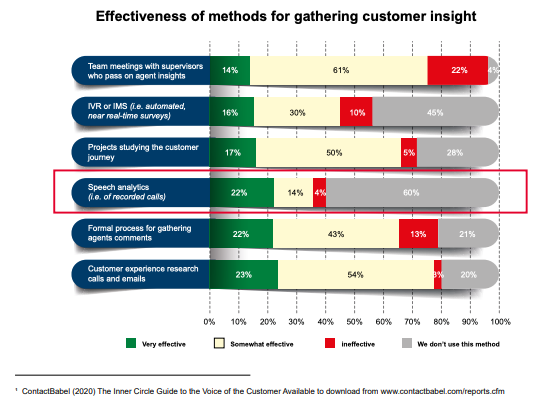 Matching our Clients' Feedback 
From our own client conversations at Davies, we can shed some light on this. We frequently come across organisations that lack the internal analytics skills to develop the insights. Some of these are brand new to speech analytics so are unsure how to progress – what systems to buy or what resources they will need.  
Others have had an ineffective experience using speech analytics, so are wary of trying again.These common issues were why we first decided to develop a managed analytics service. It's a way of guiding organisations through the use of speech analytics to deliver value quickly. We provide actionable insights within weeks, negating cumbersome procurement processes and internal upskilling. We have delivered successful analytics solutions for clients in many industries, including insurance, finance, utilities, telecommunications and retail. 
The Top Uses for Analytics  
Many of the projects we've delivered are in the areas identified by the ContactBabel report as the top use cases for using analytics to improve customer experience: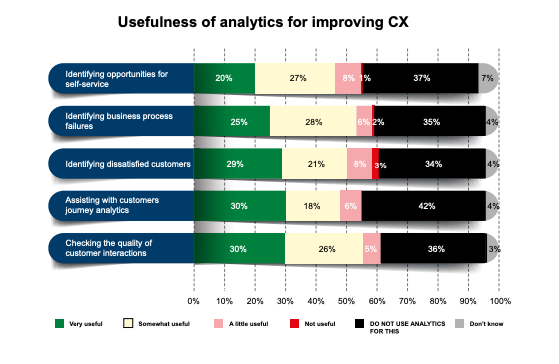 We typically focus on applying the initial insights as set out above to deliver deeper business outcomes, such as operational efficiencies, improved Quality and Compliance and increased revenue from the insights gained from Analytics. That ensures there's a significant ROI on our projects. 
Addressing common barriers to VoC success  
One of the most thought-provoking sections of the Inner Circle report examined significant inhibitors to a successful VoC initiative. I've summarised these below – along with how we can help overcome them. 
What's holding businesses back?

 

How we can help

 

Lack of integration across customer feedback solutions, with different databases and historical tools being used rather than a single VoC platform.

 

Creating an Insight Hub that brings together interaction analytics, VOC survey data, operational metrics and any other agent or customer metadata to create a single version of the truth.

 

Difficulty in getting departments to cooperate with each other.

 

Delivering quick wins to get everyone onside. We start with smaller analytics projects that 

deliver rapid, tangible results for individual functions or departments – and

 use the ROI to pay for bigger work.

 

The wording of survey questions and their ratings may be different across departments

 

Having a central support team within Davies can help align all business functions to a common methodology

 

Lack of support from executive sponsors

 

We find that delivering business change and ROI gets the attention of the Exec sponsors, quickly and our independence to your organisation can provide an unbiased voice

 

Difficulty in proving return on investment

 

This is Davies' area of specialism, identifying actionable insights that lead to a strong ROI

 

Customer feedback does not drive quantifiable change to customer experience or business outcomes

 

Our on-line case study library addresses this inhibitor head-on. We have many case studies that demonstrate that we can derive quantifiable actionable insights

 

Excessive focus upon data gathering and collation rather than gaining business insight

 

Outsourcing your analytics to Davies prevents this from happening as our specialists are trained to deliver business insights from the data analysis performed 

 

Under-resourcing and lack of budget and skills/capabilities within the VoC team

 

Within Davies, we offer an augmented resource model, so we can blend our resource with your resource to deliver against business objectives. We can also upskill your in-house teams to our accredited methodology and way of working to deliver a sustainable solution once we have completed our assignment 

 

Lack of focus / excessive expectations about what the VoC project is trying to achieve and the possible timescales

 

Our role is to keep you focused on the business goal we have been engaged to deliver. Whilst we can pivot to meet changing business goals, we will help guide you on how to be most successful 

 

Difficulty in getting enough survey results

 

We advocate combining VOC surveys with speech and text analytics, so we will help you derive insights from up to 100% of your interactions – this is normally more than enough data to feed your change programme. 

 

Inability to collate unstructured feedback into a usable form

 

This is a Davies specialism, utilising speech and text analytics to make sense of the unstructured data. We provide the right tools and expertise to help our clients address this gap

 

Executive reluctance to act upon VoC insights.

 

We find presenting the business case for change from the insights derived from data analysis make compelling reading for the Execs. This coupled with our case studies where we have delivered similar change before along with a structured approach to the change, takes the risk out of the decision. 

 

Delivering quick wins to get everyone on side

 

We start with smaller analytics projects that deliver rapid,

 tangible results

 for individual functions or departments – and use the ROI to pay for bigger work.

 
Reference: The Inner Circle Guide to the Voice of the Customer: https://www.contactbabel.com/united-kingdom.cfm 
Author – Lee Mostari, Director of Insight & Analytics 
Email: lee.mostari@davies-group.com